Sustainability and Renewable Energy are important values at Breckenridge Grand Vacations

You may have heard that Xcel, one of the biggest utility companies in the US, has committed to becoming 80% carbon-free by 2030 and 100% by 2050. Xcel is the first major utility company in the United States to make such a commitment!
In the most recent Sustainability Report from the Town of Breckenridge, our community announced their carbon-neutrality goal of being powered by 100% renewable energy by 2035. As BGV works closely with Xcel and the Town, we want to help them get there and have been working with them to do just that. Therefore, we have a goal for BGV to reduce our energy consumption by 3% per year with an overall goal to achieve a 21% reduction in energy consumption by 2030 (2019/2020 baseline).
As Breckenridge Grand Vacations continues to explore exciting renewable energy opportunities for our existing and new buildings, it is equally as important that we continue to make upgrades to our facilities and homes to reduce the overall use of energy. You have the power to help BGV, the Town and Xcel meet their goals by making small changes in your lifestyles or at the workplace.
A good place to start is by simply turning off the TV, lights and ceiling fans or by knocking down the heat when you are not in the room.  Consider replacing bulbs in the home or office. Did you know that replacing a single 60W incandescent bulb with a comparable LED can save more than 1200 kWh over the life of the bulb or about $160?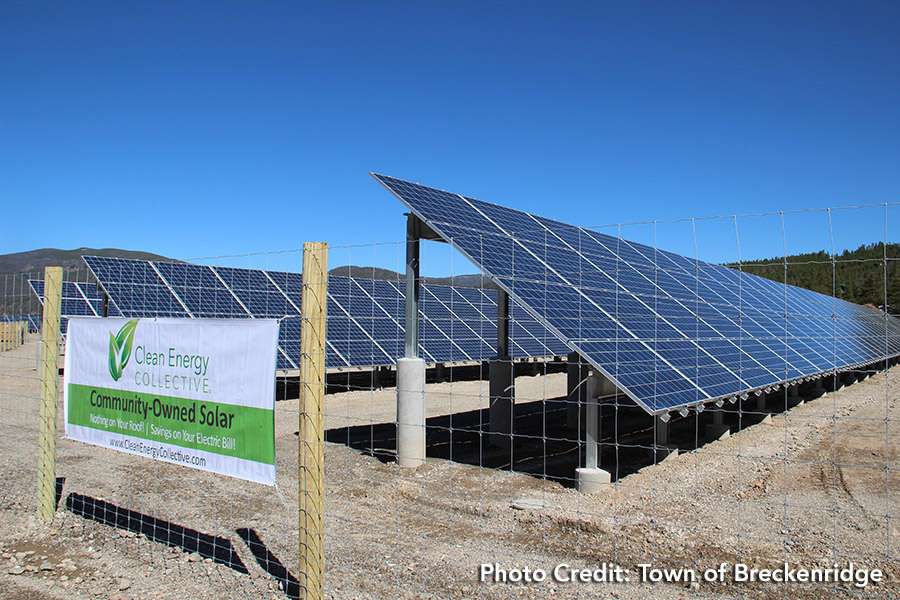 Among other improvements, each property has upgraded almost all their lighting to LEDs over the course of the past few years. Not including GC8, which was already built as energy efficiently as possible, these efforts have led to about a 16.56% reduction in company-wide electricity consumption from baseline numbers. When combined with our current solar investments – which averages close to 400,000 kWh annually and fully offset electric usage for our corporate offices and the Breck Inn – this has created a good foundation of energy savings to build on.
Along with saving on electricity and sourcing more of our power from renewables, we are using a growing portion of that electricity to power electric vehicles with our 10 EV stations currently online at Grand Colorado on Peak 8, Grand Lodge on Peak 7 and Grand Timber Lodge. And we are about to bring an additional 2 ports online at GL7 and will continue adding EV ports to meet the growing demand.
https://bgvgives.org/wp-content/uploads/2021/07/solar-panels-copy2-1.jpg
511
1200
Chris Knudsen
https://bgvgives.org/wp-content/uploads/2020/07/BGV-Gives-Logo_Horizontal_White-300x129.png
Chris Knudsen
2021-07-20 11:25:40
2021-07-21 11:48:31
Sustainability and Renewable Energy are important values at Breckenridge Grand Vacations