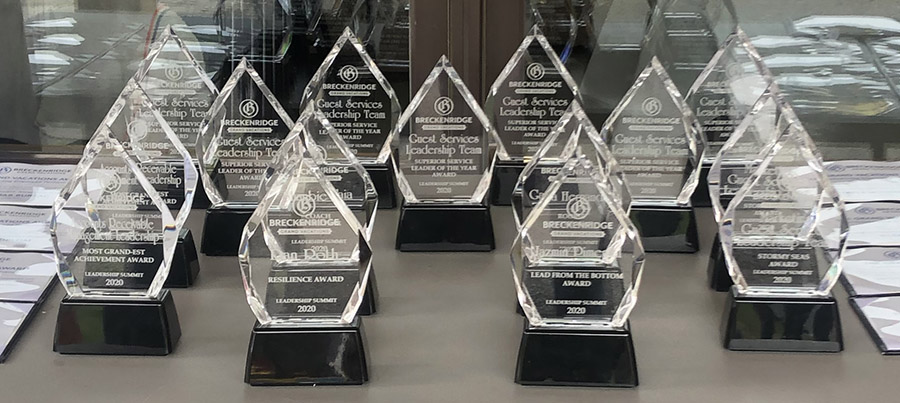 The Lead from the Bottom Award Honors the BGV non-Executive leader who has demonstrated outstanding commitment to our bottom-up vs. top-down leadership philosophy. "At BGV, leaders are not on a pedestal – they are the pedestal!" 
Jazmin has been a rock in the Grand Colorado on Peak 8 Housekeeping Department since she was first hired in 2016. Her compassionate leadership style is characterized by thoughtful organization and dedication. Once stand out situation includes how she developed and prepared her team, especially her assistant managers and RQs, to operate successfully and seamlessly during her maternity leave. Jazmin challenges her team appropriately as she strives to constantly develop those around her. She is always there to lend a helping hand, and her work ethic inspires others daily. 
The Lead from the Bottom Award is presented to Jazmin Pimental. 
---
The Superior Service Leader of the Year Award Honors the BGV non-Executive leader who led his or her team to deliver superior service, whether it be internally or externally and did an outstanding job of listening to customer feedback, identifying a recurring challenge, and taking meaningful steps to eliminate the problem. This is someone who knows that at BGV we do not send "bug letters." We kill bugs! 
Over the past year our Guest Services leadership team has been through a lot, however, they have proven time and time again that they were the best people to lead our properties through this unexpected storm. These leaders worked efficiently across departments to develop innovative protocols in response to ever-changing COVID restrictions to ensure safe and Grand vacations for our owners and guests. Some examples include developing a curbside check-in process at each property, utilizing a new CRM system to virtually communicate with on-property owners and guests and creating To Go Activities. These leaders managed the wide spectrum of owner and guests' expectations with poise, grit, and patience on the frontlines. Their problem-solving and cooperation on a day-to-day basis has been nothing short of inspiring. 
The Superior Service Leader of the Year Award is presented to Guest Services Leadership Team: Guest Services Leadership Team: Amie Yoder, Julianna Nopson, Jason Eaton, Janna Polger, Brit Listak, Emma Bollinger, and Lauren Garver.
---
The Stormy Seas Award Honors the BGV non-Executive leader who overcame a significant challenge in the past year. This is someone who knows "Anyone can hold the helm when the sea is calm." 
The Marketing Guest Services Leadership Team, Brittany Holloman and Laurel Coffman, has shown tremendous resilience throughout the past year in their leadership of the MGS Department. This driven, passionate, and dedicated duo stayed positive through the challenges their team faced due to COVID-19 impacts on the department. With the support and guidance from their leaders, the MGS team carried out the fulfillment of several successful marketing initiatives which played a significant role in helping BGV recoup from the impacts of the pandemic. Brittany and Laurel work hard to improve and streamline inter-departmental processes and truly embody the OneBGV spirit. 
The Stormy Seas Award goes to Brittany Holloman and Laurel Coffman as the MGS Leadership Team.

---
The Most Grandest Achievement Award Honors the BGV non-Executive leader who led her or his team to meet or exceed a significant goal or to achieve a significant accomplishment. "Achievement results from work realizing ambition." 
The ARM Leadership Team, Joseph Clark-Fulcher and Jonathan Moore, exemplify what it means to be team players. These leaders show incredible dedication to their team, helping their employees develop and grow both professionally and personally. Joe and Jonathan supported the department successfully implementing a deferral program, producing record setting mortgage delinquency numbers, surviving the HOA season, and becoming one of the most efficient departments in the company throughout the pandemic. This tenacious leadership pair leads by example, remaining level-headed and approachable through difficult customer interactions, pushing their team to follow in their footsteps, and be the best in customer service. Last year produced record setting numbers, reinforcing the Grand customer service and leadership of the ARM department. 
The Most Grandest Achievement Award is presented to Joseph Clark-Fulcher and Jonathan Moore as the ARM Leadership Team. 
---
The Rookie of the Year Award Honors the BGV non-Executive leader who has been in a BGV leadership position for less than 18 months, for demonstrating a strong commitment to BGV's culture and core values. 
Gama had huge shoes to fill when he stepped in as the Grand Timber Lodge Assistant Housekeeping Manager. It is an understatement to say that he filled them. Gama hit the ground running as he learned existing housekeeping processes, and quickly implemented new ones. Sometimes changing leadership can be scary and challenging, in this case, Gama seamlessly integrated into the GTL team. He has been at the forefront of developing and implementing new procedures and embracing the increased workload for housekeeping that came with the BGV Shines program and other COVID-19 impacts. Gama truly embraces the "coaching-up" culture of BGV and makes a noticeably positive impact on those around him. 
The Rookie of the Year Award is presented to Gama Hernandez.
 
---
The Coach of the Year Award Honors the BGV non-Executive leader who has excelled in the past year at developing others. "Good leaders don't create followers. They create more leaders. 
Two character-defining characteristics of Shaubie are compassionate and supportive. The Sales Team seeks her guidance daily as an experienced member of the team, they know she is always available and approachable. Shaubie is an incredible coach, patiently pushing every team member towards success.  
She goes above and beyond in every interaction – whether it is a customer or member of the BGV family.  
 The Coach of the Year Award is presented to Shaubie Faia.  
---
New this year is The Resilience Award. The Resilience Award honors the BGV leader who most effectively faced and overcame a professional of personal challenge.
Dan Roth has been an amazing force of stability during an incredibly turbulent time. His unending confidence and knowledge keep the Vacation Rentals Department moving forward, and his relentless pursuit of quality service is contagious among all his employees. Dan's leadership is characterized by patience, compassion, and grit, which is reflected in the company's increased occupancy rates across properties since re-opening last June. VRD works daily collaboratively across departments and properties and he is always willing to work hard and support others, no matter the challenges that may present themselves. Dan's ability to bring out the best in others by example is a trademark of a Grand leader. 
The Resilience Award is presented to Dan Roth.  
https://bgvgives.org/wp-content/uploads/2021/07/awards.jpg
403
900
Chris Knudsen
https://bgvgives.org/wp-content/uploads/2020/07/BGV-Gives-Logo_Horizontal_White-300x129.png
Chris Knudsen
2021-07-20 11:58:09
2021-07-26 13:33:59
2020 BGV Leader Awards