Winter Energy Saving Tips from the BGV Sustainability Team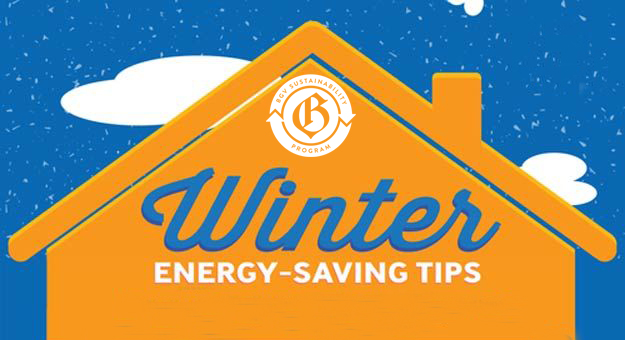 As we move into the winter months, we must prepare our homes for the larger energy load they consume. With colder months, we use more natural gas or electricity for heating and lighting our homes. Here are seven low-cost recommendations for helping you save money and energy during the winter season.
Dial back your thermostat to 68 degrees. For every degree you set your thermostat back you save 1-3% (depending on the size of your home) on your energy bill. It is more beneficial to wear another layer of clothing or have a space heater for the one room you use the most. You could also consider investing in a smart thermostat. These can help learn your family's habits when you are in the room. The smart thermostat will then only operate during those times to your desired level of comfort. You may also choose a thermostat that you can program for specific times to provide the same outcomes.
At the beginning of fall, you should perform a quick inspection of your furnace to make sure that it is turning on properly. This is done by turning on each thermostat around the house, one at a time, and watching the furnace turn on and off for each zone. Along with this, you will need to inspect the room's heating source to make sure it is warming up. Furnaces should be inspected annually by a professional to verify the correct levels are being met for gas, intake, and outtake of the system. This will help prolong the life expectancy of your furnace and make sure you do not have any problems during the coming winter months.
Reverse your ceiling fans. When reversed, it allows the fan to pull hot air up and push it back down the walls to circulate the air in the room more efficiently. You can do this by turning your fan off and locating the black switch on the housing of the fan. Flip the switch, the fan will know to run in reverse, then turn the fan back on. Do not forget to reverse the fan again in the spring to help push the cold air down for the summer months.
Performing an annual inspection of the weather stripping around your doors, windows, and attics is recommended. These are the most common areas for air leaks. Inspect for deterioration or damaged areas. You may also place your hand around the frame when the door, window, or attic is closed to feel for air blowing in or out. Replace the weather stripping when necessary.
Get in the habit of closing all blinds and drapes in rooms that are not being used and at sunset. These barriers help add a layer of protection from the cooled windows. Even double pane windows can still be chilly from the low outside temperatures. Insulated cellular blinds (Honeycomb blinds) are the highest recommended blind for forming a sustainable barrier due to their extra built-in pockets. Highly reflective blinds can reduce your heating up to 40% or more. This equates to about a 10% savings on your heating bill.
Switch light bulbs to LED. In the winter months we use our lights more often, so this is the best time to switch to LED light bulbs to save an average of $225 per year. Light emitting diodes (LED) use up to 90% less energy and will last up to 25 times longer than a traditional bulb.
Make sure vents or floorboard heaters are not covered. If they are, you will be reducing the output of your heating system. This leads to more energy or gas being produced, raises your energy bill and puts a larger demand on the heat exchanger in the furnace leading to a shorter life for your furnace.
Smart thermos
Fan Reverse switch location
Insulated cellular blinds (Honeycomb blinds)
https://bgvgives.org/wp-content/uploads/2022/11/winter_energy.jpeg
340
625
Chris Knudsen
https://bgvgives.org/wp-content/uploads/2020/07/BGV-Gives-Logo_Horizontal_White-300x129.png
Chris Knudsen
2022-11-16 09:07:15
2022-11-16 15:25:03
Winter Energy Saving Tips from the BGV Sustainability Team