PARK COUNTY CREATIVE ALLIANCE
PARK COUNTY CREATIVE ALLIANCE (PCCA) has gotten off to an exciting start! The organization was founded early in 2019 with the vision to "Unite Park County Through The Arts." Their mission statement includes identifying and showcasing the diversity of creative arts in Park County and to promote and coordinate arts and cultural activities.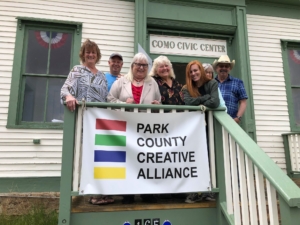 "The county is very diverse but extremely rural so we wanted to create a way for artists to network and collaborate creatively," said Ann Lukacs, Executive Director of the Park County Creative Alliance.  The Alliance started in early May to connect the local artists through various events, including an "Arty Party", hosting coffee chats, attending events and festivals, and through social media.
"We decided to have a visual attraction at the various events so, through the generous donation of one of our supporters, we have an "Arty Car"!  It is an open canvas for artists to add bling and their personal creative expression", says Lukacs.  "It definitely gets people to stop and talk to us."
"This summer we were fortunate to host an "Evening with Bandaloop".  The vertical dance performers were in Breckenridge for BIFA and graciously offered to come speak to our community and local dancers."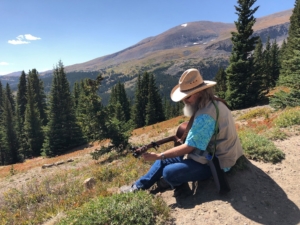 PCCA has an online survey on their website to determine the specific needs of their creatives.  As a result, they will be offering workshops and events tailored to the responses.  They have recently partnered with the Central Mountain Small Business Development Center to create resources to market and promote the creative industries.
In addition, PCCA is currently working on an interactive online directory of artisans which will be accompanied by an Artisans Trail Creative Map, which is expected to be ready in Spring 2020.
A local's favorite event this fall was "Pass Notes".  Members took advantage of Mother Nature's color show and paired musicians and plein air artists on Hoosier Pass, Kenosha Pass and Wilkerson Pass.  Pass Notes will definitely be a recurring event this year. PCCA members are also looking forward to offering more programming and opportunities for students, seniors and veterans in 2020.
The Alliance has been a dynamic force in connecting creative industries, galleries, and other organizations to improve the lifestyle of their residents and offer an outlet to support and promote their artists.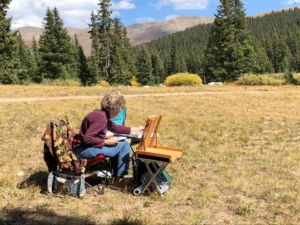 Creative Industries and Groups include:  Visual Arts & Crafts, Performing Arts, Film & Media, Literary & Publishing, Design, and Heritage.
Please join this exciting new organization!  Follow them on Facebook, Instagram and at www.parkcreates.org
Park County Creative Alliance
Uniting Park County Through The Arts
P.O. Box 366 ● Fairplay ● Colorado ● 80440