Breckenridge Grand Vacations Supports Local Nonprofits with $316,760 in Grants to 31 Organizations During its Fall 2021 Grant Cycle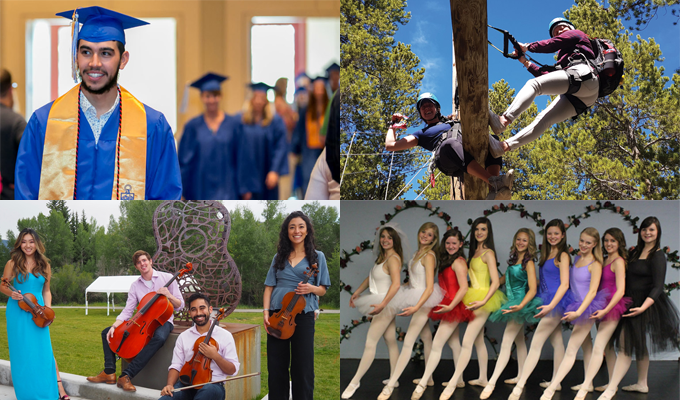 Summit and Park County nonprofit organizations have been awarded a total of $3,446,365 in the last seven years by Breckenridge Grand Vacations' (BGV) Grant Program. Grants supported a variety of community needs including programs and general operations for local human services, education and environmental programs; books for Summit School District classrooms; AED placements, education and community engagement; a variety of scholarship programs; avalanche safety and awareness education; theatre and music programs; youth athletic programs; tutoring assistance and more.
"This fall, BGV Gives received $422,196 in grant requests," said Deb Edwards, BGV Gives Program Manager. "We take great pride in being able to support so many of our community organizations that provide important programs for our residents and guests. Our nonprofit organizations provide a myriad of critical and essential services, as well as quality of life offerings. Their contributions make living and working here so special."
BGV awards grants to local organizations during two annual cycles: one in the spring and another in the fall. The spring 2021 cycle saw $240,860 awarded to 28 organizations including $127,000 to eleven Human Services agencies, $24,000 to four Educational organizations, $21,000 to four organizations in Art and Culture, $32,060 to five Environmental agencies, $31,800 to four Sports and Recreation groups and one grant in the amount of $5,000 in our "Other" category.
During the 2021 fall cycle, grants were awarded as follows: Human Services – thirteen grants for $162,000, Education – twelve grants for $82,260, Art & Culture – two grants for $17,500, Environment – one grant for $20,000 and Sports & Recreation – three grants for $35,000.
In 2021, more than $1.3 million has been awarded by Breckenridge Grand Vacations in cash and in-kind contributions through their Endowment and Donor Advised Funds at The Summit Foundation and directly from the company through BGV Gives.
Several organizations shared their visions for growth and development amongst their excitement when the award news was announced on December 20, 2021.
"The Breckenridge Outdoor Education Center (BOEC) is so grateful for the generous funding we have received from BGV Gives for sponsorship of three special events and to support BOEC's local youth programming. This financial support will increase overall revenue raised by each event which in turn supports BOEC's mission to provide life-changing, adaptive outdoor recreation for those living with a disability or special need.  BOEC is also committed to meeting the community need in caring for local youth as we know that therapeutic outdoor recreation activities help mitigate social isolation and promotes mental health education and awareness across a multitude of populations.  We cannot stress enough how thankful we are for the ongoing support we have received from BGV Gives and how important this financial support is to us and to those who benefit from BOEC programs" shared Sonya Norris, BOEC Executive Director.
Additionally, Andrea Walker, manager of the Mountain Scholars Program at Colorado Mountain College was especially grateful for program funding again this year. "Thank you to Breckenridge Grand Vacations for awarding the Mountain Scholars Program funds this year! The Mountain Scholars Program plans to use the grant funds to aid first-generation students in degree completion rates as well as to provide students with tools for career readiness as they transition into the workforce. We are proud to have a completion rate 5-times the national average in thanks to our collaboration between The Summit Foundation, Colorado Mountain College, the Summit School District and funders like BGV Gives."
Breckenridge Grand Vacations has a history of playing an active role in the community encouraging its employees to volunteer at local events and for philanthropic causes through paid volunteer hours. Through the end of 2021, BGV employees volunteered 3,580 total hours to community organizations equating to well over $100,000 in employer-paid volunteer time off. BGV also supports our community by being one of the largest year-round employers with more than 650 staff members, implementing a culture of excellence in customer service that develops and supports employees.
https://bgvgives.org/wp-content/uploads/2022/01/granys_banner-copy.png
400
680
Chris Knudsen
https://bgvgives.org/wp-content/uploads/2020/07/BGV-Gives-Logo_Horizontal_White-300x129.png
Chris Knudsen
2022-01-17 20:15:59
2022-01-18 15:45:21
Breckenridge Grand Vacations Supports Local Nonprofits with $316,760 in Grants to 31 Organizations During its Fall 2021 Grant Cycle