Breckenridge Grand Vacations accounting team members make mission trip to Nepal
This past May, Colin Timm (Director of Accounting), Linda Nelson (Controller) and family friend Rylee State joined Dr. Craig "Doc PJ" Perrinjacquet on a mission trip to Nepal.  The impact the trip made on them was unforgettable.  Volunteering and giving back to not only our local  but also our international community is an important pillar of our company culture at Breckenridge Grand Vacations.  Following in the footsteps of the late Rob Millisor, who travelled to Nepal in October 2015 and suffered a fatal heart attack while there, Linda and Colin were asked to share their experience with BGV Gives.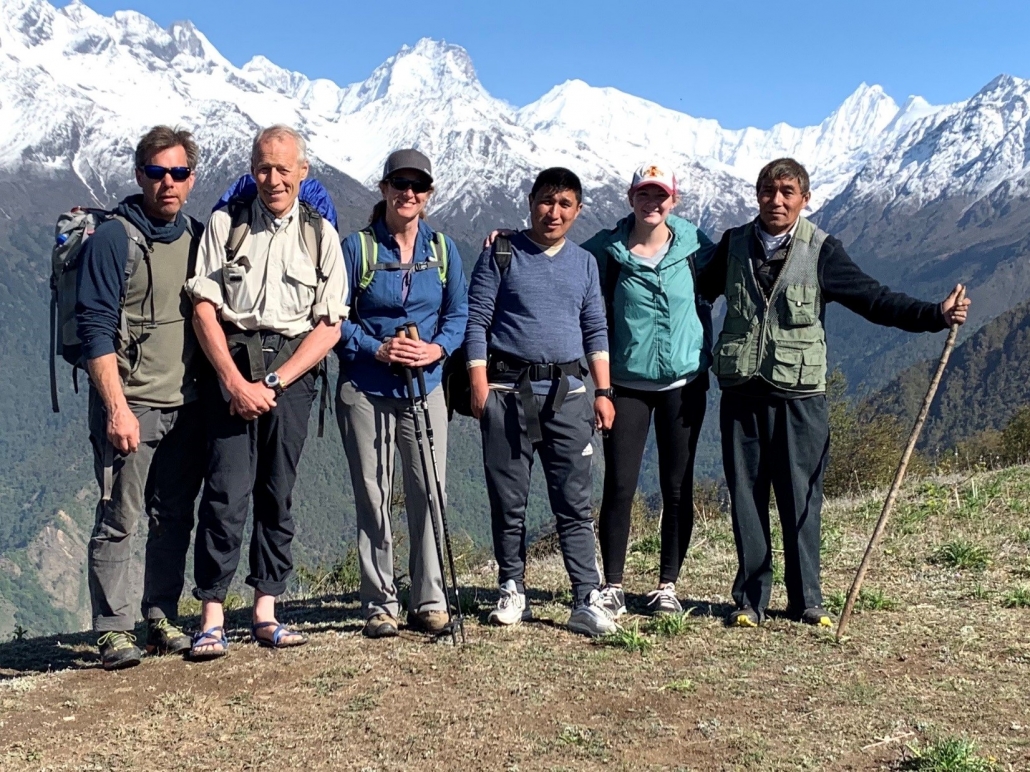 In addition to PJ asking you to join him on this mission trip, what was your inspiration to go to Nepal? 
Colin:  Nepal has always been on my shortlist.  For one thing, it's about as far away as one can get without leaving the planet.  I've never been to Asia, and it's the Himalaya —What mystery awaits?  I seem to gravitate to other mountainous areas when I travel because I like to experience foreign mountain cultures.  They are exotic and familiar at the same time.  Mountains are conducive to adventure and they never disappoint.  I also jump at any opportunity to have a unique experience in my travels, to get off the beaten path.  This opportunity added one more element, a chance to help other people in need.  
Linda:  I've always admired PJ for his commitment to help the most underserved people throughout the world.  I was already involved in his efforts through my position as Board Secretary of Doctors to the World, but I wanted to help in a more tangible way.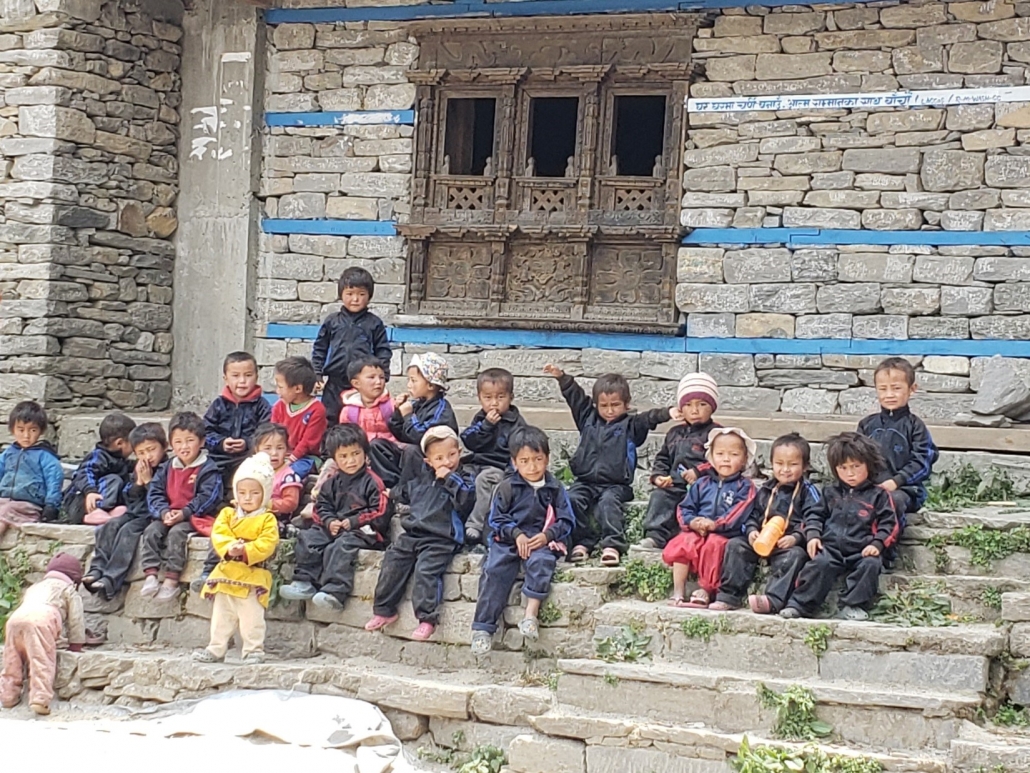 What was most memorable or a favorite part of your trip? 
Linda:  The most memorable part of the trip for me was visiting Langtang, the village wiped off the map by the 7.8 magnitude earthquake and subsequent landslide in 2015.  On that day 243 people died in Langtang, and are buried deep under the rubble.  Only one house survived; the ancestral home of the Lama family.  We stayed in that home with the surviving members of the family, surrounded by what looked like a lunar landscape.  It was hard to imagine the loss they suffered of many of their extended family members and friends.  The house survived because it was built under a cliff below the massive Lantang Lirung mountain, which rained down 40 million tons of rock and ice onto the village. 
Colin:  My most memorable and favorite part of this trip was getting embedded in a close-knit familial culture.   From day one and for the entire trip, we were in the care of Thilley Lama (photo below) and his family.  Thilley was raised in the Langtang valley as a yak herder.  He is a direct descendent of the king of the area, so he is literally a prince.  Thilley's son, Mipsang, was born in a yak hut at over 15,000 feet in elevation.  Mipsang (3rd from left) is a medical doctor, which, as you might imagine, is a big deal.  He is the only hematologist in all of Nepal.  We were also accompanied by Angmu (2nd from left), who did most of the cooking and always made sure we had enough hot water and tea.  Pasang (4th from left) was the nuts and bolts of the operation.  He would make sure everyone was doing what they were supposed to be doing.  Dipak (red shirt) was always there to help in some way.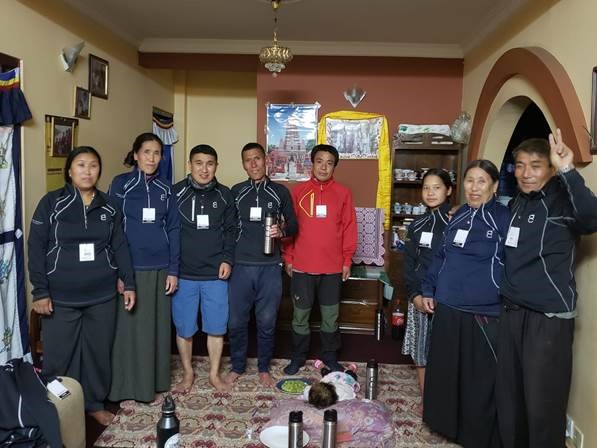 What was it like when you presented the new uniforms to the school children?  And the BGV jackets to the guides/friends/family members? 
Colin:  Rob and Amy Millisor set up a Global Giving Fund through The Summit Foundation dedicated to helping people in need internationally.  One of Rob's entries in his travel journal on his trip to Nepal with Doc PJ in 2015 was an observation that the school children could really use new school uniforms.  For this reason, it was quite an emotional experience to see this idea of Rob's come to fruition.  Many of the older children remember Rob from his visit and he is renowned for his contributions to the people of that area.  The group was thrilled to receive the BGV pullovers.  Many of the people who traveled with us wore them every day.    
Linda:  I felt honored to help fulfill one of Rob Millisor's wishes to supply the school children of Goljung Village with new uniforms.  Rob had visited the school and identified the need for the uniforms.  He and Amy set up the Rob and Amy Millisor Global Fund to help fund this and similar needs.  The children were adorable and very appreciative.  The school staff, along with Mipsang Lama, held a ceremony to honor Rob and his commitment to helping them.  There was a beautiful moment of silence in his honor.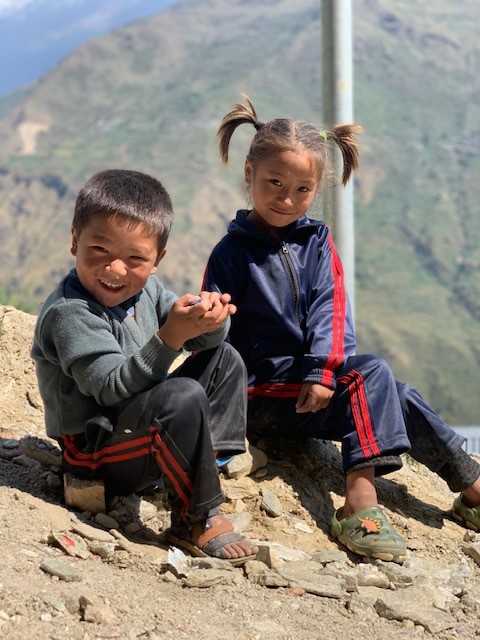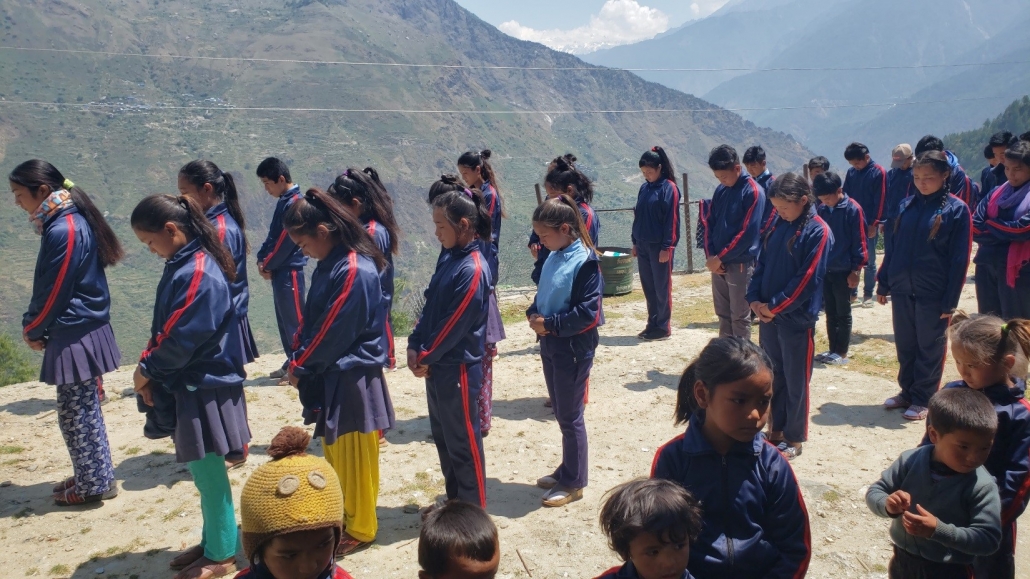 What surprised you the most during your trip? 
Linda:  I was surprised and touched by how we were welcomed and treated like family.  When we returned to the Lama family home in Langtang after a night away in Kyangin Gompa, I told Thilley Lama how I felt I was home again and he said, "you are".  Thilley and every member of his extended family took amazing care of us.  One woman in particular, Angmu, was always by my side helping me at every tricky part of the trail.  She cooked for us, made sure we drank enough water, did our washing and kept us laughing when the going got tough.  I miss them all very much. 
Colin:  I was most surprised by the level of poverty in the Tamang and Langtang areas and in Nepal in general.  These are agricultural communities where electricity and even roads are a recent development.   Despite this, the people were happy and generous.  I was also surprised at how intact their traditional customs were.  The Tibetan border is less than 10 miles north, so the Tibetan traditions are alive and well.  We took part in many Buddhist rituals and ceremonies.   Cultural experiences that stand out were the Tibetan tea, black tea infused with yak milk, and the all–night full moon Buddhist celebration that was taking place in Nagathali, complete with singing, dancing and apparently quite a lot of drinking.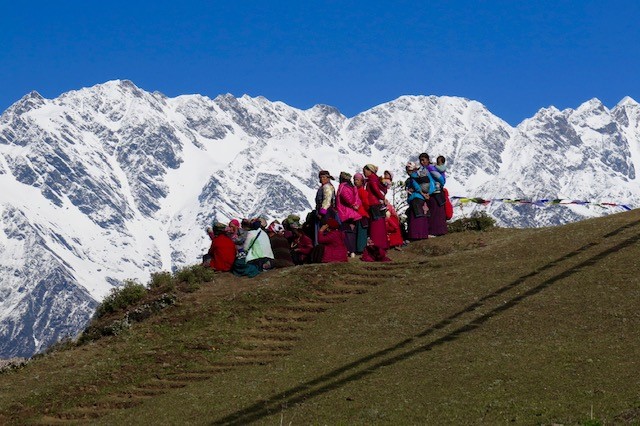 How do the towns you visited compare to Summit County?  Same?  Different?   
Colin:  The towns we visited seemed like another world away from Breckenridge and on the surface, you would not see any similarities.  In reality however, these villages would be a lot like Breckenridge 100 years ago.   We stayed in a village at 12,700 feet called Kanjin Gumba which felt like the wild west.  Most of the existing buildings were completely destroyed in the 2015 earthquake and there is a building boom going on now.  Guest houses are going up as fast as possible with no regulations or formal planning structure in place.  Enterprising locals are all trying to get their share of the trekking market.  This village (pictured below) is in the Langtang Valley and there is no road, only a narrow path, to get there.  Practically everything you see in the picture was carried for many miles on the back of a mule or a human.   
Linda:  The lack of any medical or dental care was striking, and the reason for our trip.  The nearest medical facility is a 7-hour drive from Goljung and farther from the more remote villages, many of which are only accessible on foot.  Villagers with serious illnesses are helicoptered out to Kathmandu.  Many people walked for hours to visit the clinics we held.  I'll never complain about the long drive to Frisco again!  The spectacular mountain views and crisp mountain air are really the only similarities to Summit County.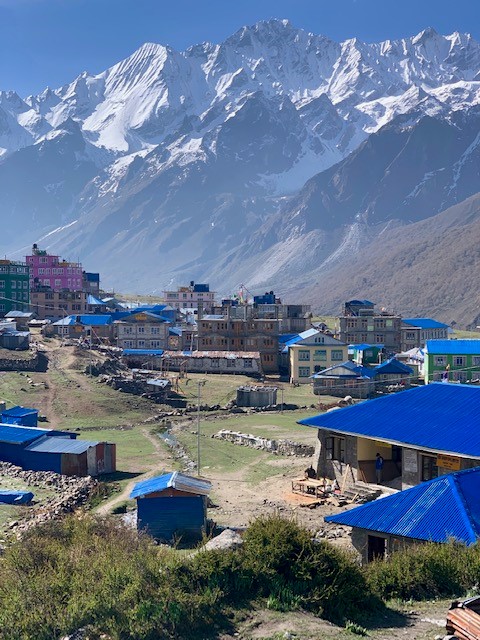 What did it mean to you to see the memorials to Rob? 
Linda:  I felt a strong connection to Rob during the entire trip.  He is the reason Colin and I got involved with Doctors to the World and it was an honor to continue his commitment to the people of Nepal.  I already spoke of the ceremony at the Goljung School, but we remembered him many other times.  We held a special Buddhist ceremony on the hillside near Tatopani where he passed.  It was a peaceful and beautiful place with mountains all around.  We also left some special items in an ancient shrine in the village of Nagathali that people from home wanted us to leave behind in his honor.  In the village of Gre we were approached by people who remembered Rob from his visit there.  They shared with us how much he meant to them.   
Colin:  One of Rob Millisor's passions was helping those less fortunate.  He was very involved in Doctors to the World and he is the reason I'm involved.  He asked me to help keep the accounting records for the organization and I'm so thankful for that.  It's amazing to see, first–hand, how great an impact the donors to Doctors to the World have had.  $20,000 in medical supplies goes a long way in a third world country.   
As you may know, Rob took the opportunity to travel to Nepal with Doc PJ in 2015.  Tragically, he had a fatal heart attack while there.  He was with Doc PJ, Thilley, Mipsang and Gialmu (Mipsang's sister) when it happened.  The Lama family consider Rob a dear friend and are also still grieving over his loss. 
As we were driving steep switchbacks to the village of Tatopani, we stopped and hiked down to the place where Rob passed.  In 2015 there were no roads in this area and the only way was hiking from village to village.  To get there we had to hike a few hundred feet down a steep hillside on a narrow, steep path.  This was an incredibly serene and beautiful place in the terraced fields of corn and barley.  Thilley, a very spiritual individual, performed a Buddhist ceremony with incense, a burning candle, a picture of Rob and a Buddhist chant.  It's hard to describe but I think Rob was somehow there saying "appreciate ya".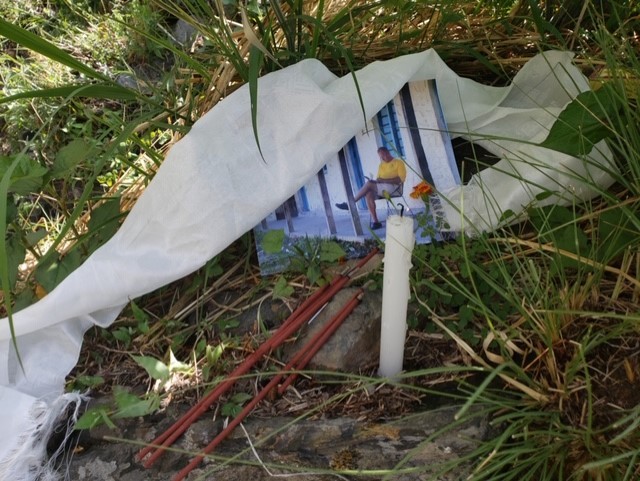 Share something that was totally unexpected.
Colin:  I didn't expect to see the level of destruction from the 2015 earthquake.  Four years later you can see evidence in the higher villages and even in Kathmandu where historic buildings are still in rubble.  Most dramatic was in the village of Langtang itself.  Shortly after the earthquake had subsided, an avalanche of snow and rock came from a mile above and decimated this little village.  More than 200 villagers, guides, porters and foreign trekkers were killed.  The picture below starts to put this into perspective.  The boulder field is where the village used to be.  Thilley Lama and his family have owned the house under the cave for generations and this was the only structure to survive the earthquake.  It did sustain some damage and they are still in the process of getting it fixed up.  During our three-night stay in that house, we helped him repair his solar water heater so they could have hot showers again.   
Linda:  The day we drove back to Kathmandu, a rebel group declared a banda.  A banda is a strike called for political reasons.  There is often violence during a banda.  There had been a bombing on the road we were planning to take back to Kathmandu the day before.  We decided to chance it and were stopped at roadblocks along the way.  We had to wait at one roadblock for a police escort which was a pick-up truck full of armed teenagers.  We made it back without too much trouble, but it was the longest drive of my life. 

Tell us about something funny that happened while you were there. 
Linda:  Colin and I were unpacking boxes of supplies to put into bags for the local families.  I gave an empty box to a cute little boy who was watching us.  He was so excited about his empty box that he went and brought back some of his friends who also wanted boxes.   
Colin:  Doc PJ's main role at the medical camps was pulling teeth.  He pulled a total of 121 teeth in the four villages where we set up camps.  It's unclear exactly why there is such a lack of dental hygiene in these remote villages.  I think it's a combination of poor education, inadequate housing and poverty.  When you're toiling in the fields all day and then sleeping in a shack, flossing is a low priority.  When villages receive word that a doctor is going to be in town and can pull painfully rotted teeth, they come from miles around.  These three yak herders came in from the fields to get a few teeth pulled.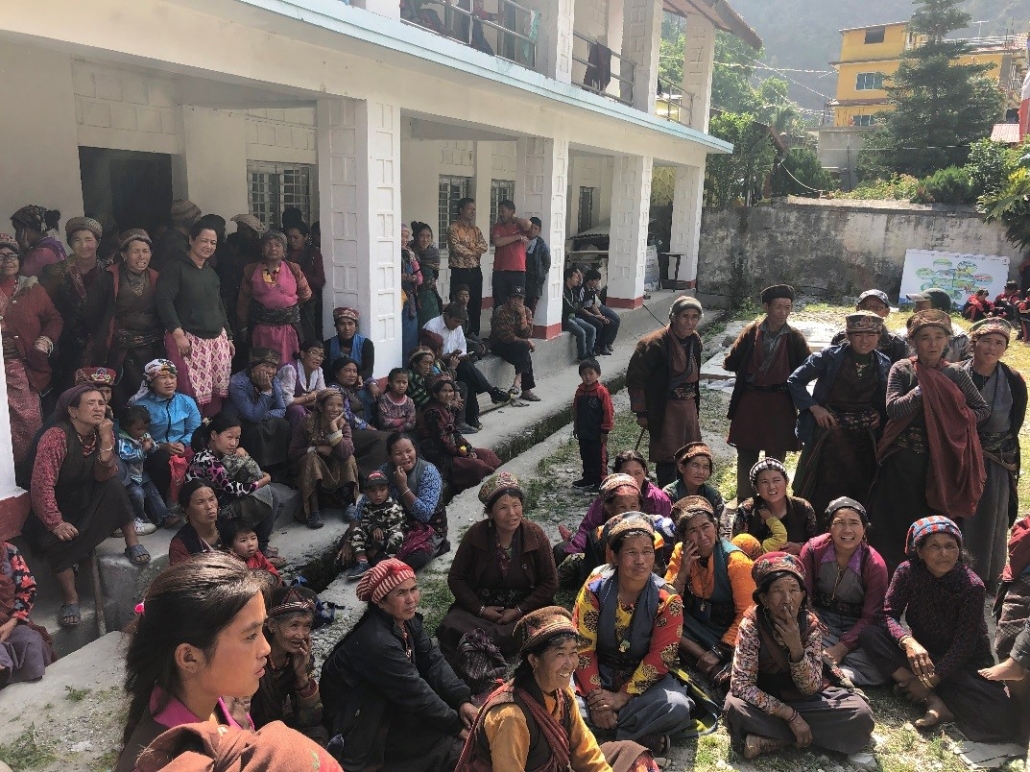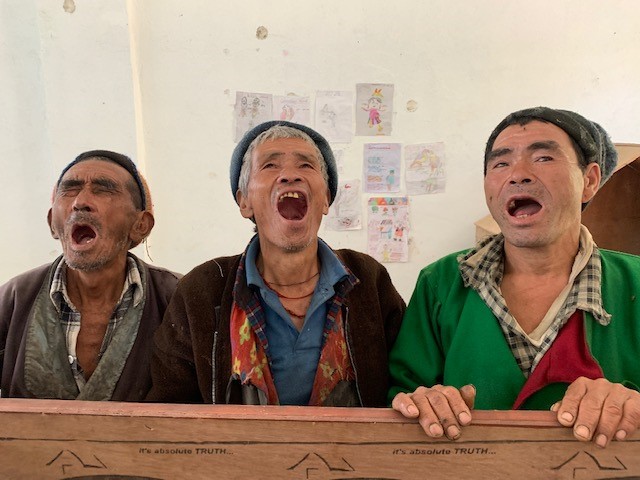 What was the journey like physically?  
Colin:  I think the most trying part about the journey physically was the 16-hour plane ride from Chicago to Hong Kong.  One thing that sticks in my mind is how good Nepal smells.  I remember first getting off the plane in Kathmandu on a rainy night and getting hit with a fragrance that I did not expect.  I think that city is one giant incense burner.  Being in Nepal also had some challenges.  It took a bit to get used to the plumbing systems (or lack thereof).  It was usually a porcelain hole in the floor but not unsanitary.  The beds were usually just a four-inch foam mattress on a slab of plywood.  I did have a sleeping bag liner.  In hindsight, I should have brought my own sleeping bag.  There were blankets but it did get quite cold at night at the higher elevations. 
Linda:  The travel was tough.  The first week of the trip, we drove in old jeeps on very bumpy, winding roads.  One day the road was so windy and wet from rain, I was convinced we were going to go over the edge of a very steep cliff.  Colin and PJ were riding in the open bed of the truck getting soaked. We trekked the second half of the trip.  One day in particular, we trekked eight hours uphill to Langtang.  Rylee and I had a hard time keeping up but there was always someone looking out for us. We also had to be on the lookout for donkeys and yaks on the trail.  They've been known to knock people right over the cliff.  We quickly learned to always stay on the uphill side of the trail.  Colin came face to face with a yak on a suspension bridge and lived to tell the tale.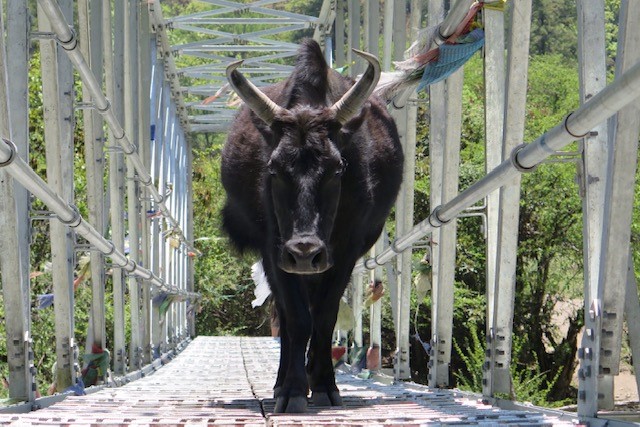 Describe your typical meals.  What was something very unexpected or unusual that you ate? 
Linda:  Dal Bhat is eaten by the locals twice a day, every day.  It is lentil soup served over Basmati rice with a side of vegetables.  It's delicious and nutritious but I got tired of eating the same thing every day.  Some of the guest houses we stayed at served their version of pizza or pasta which was a welcome break.  They also served delicious yak yogurt with honey and fruit.  I wish I could get that here.  We tried traditional Tibetan butter tea which is black tea emulsified with salted yak butter.  Breakfast consisted of folded Tibetan flatbread filled with either melted cheese or scrambled eggs.  Thankfully they had instant coffee for us.   
I ate a caterpillar that had been consumed by a fungus.  We called them zombie worms and they are worth their weight in gold.  They are only found in the Kyangin Gompa area and are mainly sold to the Chinese as an aphrodisiac.  Every morning, the entire village would head into the hills in search of the zombie worms.  Their real name is Cordyceps and I learned you can buy them on Amazon! 
Colin:  By far, the most typical food we ate was dal bhat, which consists of rice, lentil soup, vegetables and spices.  This is so ubiquitous that it was served almost everywhere we went for lunch and dinner.  It did vary a little from place to place as far as the vegetables and spices used.  Many of the guest houses we stayed in did have a menu and you could choose various types of pizza or momos.  Momos are an Asian dumpling.  Breakfast usually consisted of a fried or scrambled egg on Tibetan bread.  If we were lucky, there would also be fresh yak curd with pomegranate.  There was not much variety in the food, but it was all very healthy and nutritious. While in a village called Briddhim, a local villager had hunted a wild boar and we were fortunate enough to give that a try.  In general, I think it's a good idea to stay away from meat and any raw vegetables in this area because they are easily contaminated.  All water is boiled before drinking and this is part of why a lot of tea and coffee is served.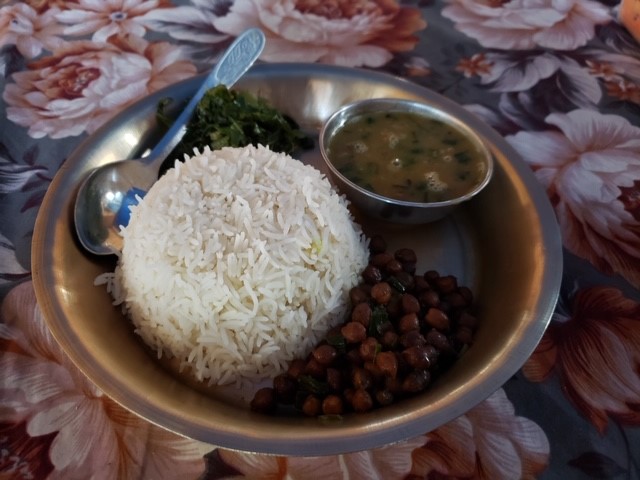 How far and to what elevations did you hike? 
Colin:  The first part of the trip was spent in the Tamang valley where dirt roads have recently been built, within the last 3 years.  We expected to be hiking through most of this area as PJ has done on past trips, having to transport all the medical supplies on mules.  On this trip, we were able to use land rover type vehicles which allowed us to bring in more supplies than in the past.  It will be interesting to see how these new roads affect this area and there are mixed feelings among the locals.  Clearly it will allow them better access to supplies, emergency services and increased commerce.  I'm sure it has already started to affect the remote feel of the area and may even decrease the trekking popularity.   
The second part of the trip was spent in the Langtang valley where roads have not yet been built.  For this we did have a few mules to help carry the bulky items.  On the first day of this leg, we trekked about six or seven miles from Briddhim to Sherpagaon, starting on a newly constructed road but soon coming to the end where the heavy equipment was in the process of bulldozing through the jungle.  As we transitioned from road, to path it felt as if we may be some of the last people to experience this amazing valley in its pristine, pre-road state.  Day two was the big day from Sherpagaon to Langtang, which was 10 to 12 miles through ever changing ecosystems as we gained elevation.  After two nights in Thilley's house in the cave, we began our hike up to the village of Kanjin Gumba at 12,700 feet, which lies in a beautiful hanging valley surrounded by receding glaciers and the occasional rumbling avalanche.  We stayed here for two nights and I must admit, I think the elevation started to get to me.  Without too much difficulty, I was able to convince Doc PJ, Mipsang and Pasang to climb Tserko-Ri, a 16,300-foot sub-peak surrounded by 22,000-foot peaks.  They had all done this many times before, but it was there and I was thankful they were keen to climb it with me.  
Linda:  On the second week of the trip we trekked up the roadless Langtang Valley.  We trekked for about 30 hours total.  The longest day was from Sherpagaon to Langtang, which took roughly nine hours.  After a night in Langtang at 11,318 feet, we trekked to the village of Kanjin Gumba, which is at 12,500 feet.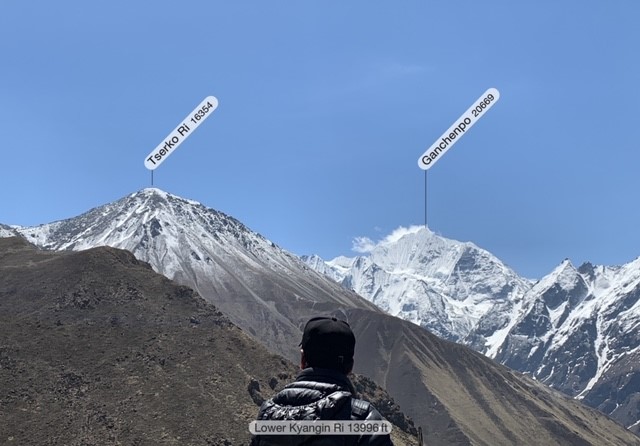 Would you go to Nepal again? 
Linda:  It would be tough to recreate such a special trip.  Since we were travelling with PJ and the Lama family, we were treated like family, not tourists.  I think I would be disappointed to go back as a tourist.  If I had an opportunity to go back with PJ, I would. 
Colin:  I truly hope to go back to Nepal someday.  I want to reconnect with the people that we got to know over the three weeks of work and adventure.  I want to see how they adapt to the changes taking place in the area.  China is in the process of constructing many roads, and a main trade route is developing that goes directly through there from China, south to Kathmandu and further south to India.  I'm sure Doctors to the World will continue to have an impact in this area.  One of the goals is to establish permanently staffed medical clinics in these villages and we talked a lot about how that might happen.  We only scratched the surface of Nepal and one could spend a lifetime just exploring Kathmandu itself.  Namaste.