On Saturday, September 1st, the Great Rubber Duck Race was held for the 31st time on the Blue River in Breckenridge. Due to low water levels, a "digital duck race" was held. Sponsored by Breckenridge Grand Vacations and BGV Gives, this long-standing community event raised over $139,000 for The Summit Foundation, Summit County's public community foundation.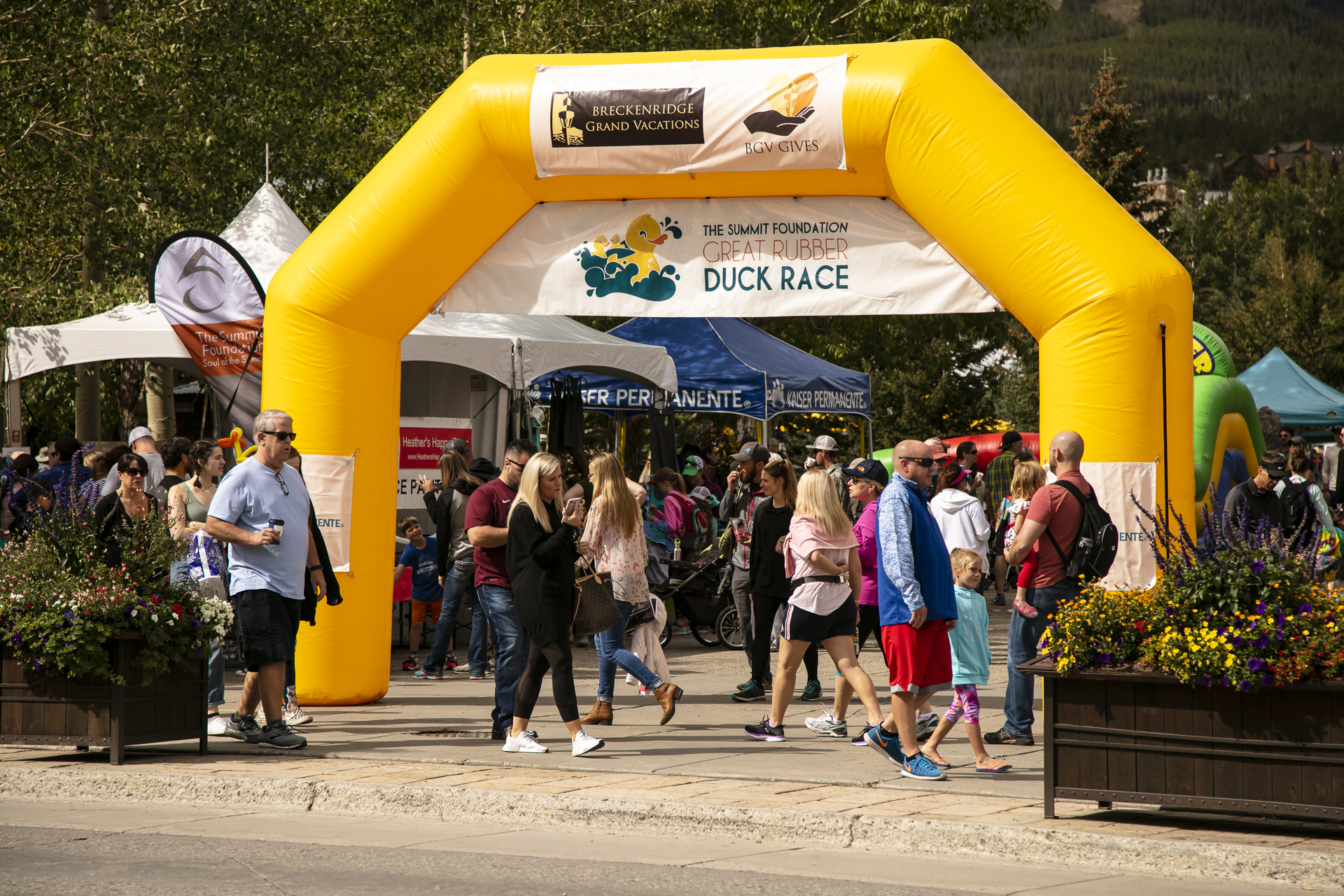 The event began at 10:00 am with free family activities such as bounce houses, slides, and a community mural. Attendees were able to walk across the river to go between activities in Blue River Plaza and the Riverwalk Lawn.  Ducks were sold as attendees waited for the races to begin, starting with the FirstBank Kids Duck Dash at 1:00 pm. An hour later, the Kaiser Permanente Business Battle race was held with 363 local businesses vying for the grand prize. The Great Rubber Duck Race followed at 3:00 pm, where more than 9,500 ducks competed for the "fastest" duck bragging rights. Nearly 200 prizes were distributed to the winners, with generous prize donations courtesy of Breckenridge Grand Vacations and hundreds of other local businesses.
Throughout the month of August, employees of Breckenridge Grand Vacations generously volunteered their time and sold ducks around Summit County.  Nearly 30 employees donated more than 65 hours of their time, all for the success of the event!
For a list of winners, please visit www.summitfoundation.org.  Be sure to save Saturday, August 31st, 2019 for the 32nd Annual Great Rubber Duck Race… one of the longest-running Duck Races in the country!
All duck photos by Jeff Kepler
https://www.bgvgives.org/wp-content/uploads/2016/08/bgv-gives_logo_horizontal_wht-01-300x120.png
0
0
Julie Howsmon
https://www.bgvgives.org/wp-content/uploads/2016/08/bgv-gives_logo_horizontal_wht-01-300x120.png
Julie Howsmon
2018-09-14 11:55:31
2018-09-14 11:55:31
The 31st Annual Great Rubber Duck Race