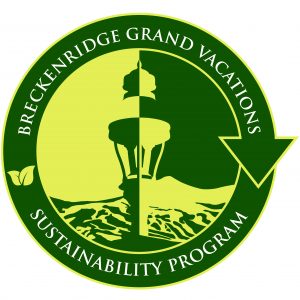 There are so many different ways people, businesses, and organizations can thrive while being green and sustainable. For Breckenridge Grand Vacations (BGV), we realized we could thrive and be green almost a decade ago with the creation of a Green Team. We knew, however, that if we were serious about our sustainability efforts we needed a department and in 2014 the Sustainability Department was established.
A few of the Sustainability Department and BGV's green efforts include community, garden plots for employees and the Friends of the Dillon Ranger Disctict's trail building – which I highly recommend you come out for a day or two or four and enjoy the fun in keeping our local trail systems managed. There is usually food and drink after the long day's work too!
We proudly recycle at all BGV locations and compost at most of them. We established glass only recycling at Grand Colorado on Peak 8 to better assist in providing a cleaner recycle stream and two of our resorts and the Breck Inn have refillable water stations to help divert single-use plastic water bottles. Did you know the Breck Inn has helped divert nearly 20,000 single-use water bottles from the landfill?
We offer electric vehicle charging stations at our resorts and guests and owners can ride the free shuttle services from Grand Colorado, Grand Lodge, and Grand Timber. Carpooling helps reduce carbon output and better helps with the town's traffic congestion.
Our housekeeping departments try to minimize the impact single-use amenities can have on the environment and all participate in Clean The World Foundation by donating partially used shampoo and soap, which helps third-world countries in providing clean and sanitary products for those who have little or to no access to them.
Some of our newest programs include employee e-waste and appliance recycling, employee climbing rope and tire tube recycling, and employee CFL and battery recycling. This year, we'll establish plastic bag recycling at our resorts to help our guests and owners in their green efforts in case they forgot their reusable bags.
We also have the Grand Green Commute Challenge offered during the summer months. This is a chance to get rewarded for green transportation actions; including using public transportation, carpooling, biking and walking to and from work. We had a 47% increase in participation in 2016!
We also established Sustainable Stays and since getting information on digital and non-digital registration cards, we have had an overwhelming positive response from guest and owner participants. Grand Timber has had over 200 Sustainable Stays in the past six weeks!
Lastly, BGV has invested over $1 million in efficiency upgrades at Grand Timber and we are one of the largest shareholders in the community's solar power array which offsets the Lincoln West Mall's electricity every month, home to many BGV offices.
Whew!
There is a reason why BGV Sustainability's slogan is Always GRAND Always GREEN. We are continuously moving forward in our sustainable actions, and every action counts – it really does!  We strive to be grand and green for our current owners and for our future ones too and for ourselves, our town, and the environment.