Avoid End-Of-Ski-Season Injury
&

Stay Active All Summer Long

Courtesy of Vail-Summit Orthopedics & Neurosurgery
Spring begins in less than two weeks, and if the recent warmer weather is any indicator, it's going to be a beautiful late ski season filled with bluebird days, sunshine and slushies! While we love a good goggle tan, we don't like ski and snowboard injuries. At Vail-Summit Orthopaedics & Neurosurgery (VSON), we tend to see an onslaught of torn ligaments, sprains and strains right around the late March to late May period.
Longer, warmer days create wet and heavy snow conditions, catching even the most skilled skiers and riders off guard. In slushy snow, rotating or pivoting the skis/snowboard becomes challenging. With too much momentum in cement-like snow, your body tends to take on that twisting and torqueing rather than your feet – often resulting in back and leg injuries. It's more common than you think.
Even though the ski season is winding down, summer is right around the corner. We want to ensure you enjoy it out on the mountain – not in our office. So, let's talk about the most common spring skiing mishaps we see at VSON, and how to avoid them. 
The Dreaded ACL Tear
The anterior cruciate ligament (ACL) is known as the most commonly injured ligament in our knee. In many of these cases, people injure the ligament in sports like skiing and snowboarding, where there is quite a bit of pivoting action. In heavy, hard-to-turn-in snow, you're even more at risk for an ACL tear.
Surprisingly, female recreational skiers are 4-5 times more likely to tear their ACL than their male counterparts. This is due to an anatomical "condition" called genu valgum, or knock-knee. Women are born slightly more knock-kneed than men, which puts a more significant strain on the female ACL.
LCL & MCL Tears 
There are two major ligaments in the knee that are also prone to injury: the medial collateral ligament (MCL) found on the side of the knee closest to the other knee, and the lateral collateral ligament (LCL) found on the opposite side of the knee. When either of these ligaments are "overstretched," it can result in a tear. This is one of the most common ski and snowboard injuries, especially towards the end of the season.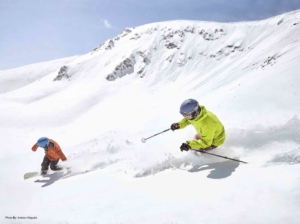 The prototypical skiing knee ligament tears happen when the skier/rider suffers a prolonged twisting fall. It's not uncommon to tear multiple ligaments at the same time. A tear is usually accompanied by a popping sound and instability in the knee.
The most effective ACL, LCL and MCL tear prevention programs include lower body strength training, stretching, and warmups. Hip flexors and abductors, along with calf stretches, squats, lunges, and one-legged balance exercises, are all great for knee strengthening and preventing tears.
While skiing and riding, you can help prevent ligament tears by remaining limber during falls (don't try and stretch your legs out straight), keeping your knees slightly flexed (especially when jumping), using proper-fitting equipment, and doing 10-15 minute warmups before hitting the slopes. Getting caught up in the "springtime cement" can be unavoidable, so making sure your body is ready is the best way to avoid injury.
Low Back Strains & Sprains
Lumbar muscle strains are among the most common causes of low back pain we treat at VSON. Your lower back supports the weight of your upper body and is responsible for helping you twist, bend and move. Strains occur when the lumbar muscle fibers are torn or simply just stretched. Sprains happen when the ligaments tear from their attachments. In some ways, strains and sprains can almost be trickier than broken bones because they can happen suddenly and traumatically from injury or gradually from overuse. This can make it difficult for individuals to determine the source of their back pain.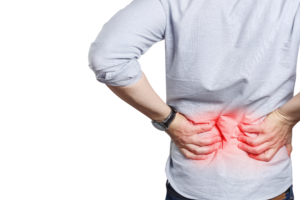 Lower back pain is often caused by repetitive and strenuous motion to the lower back. This is especially common among those of us who work and play in the Colorado High Country, as much of our time is dedicated to outdoor exercise and adventure. We frequently see springtime back pain due to the excessive twisting and rotating motions heavy snow tends to require. We promise, it's not old age!
It's crucial to maintain a regular fitness regimen to keep your lower back strong and healthy enough to do the spring skiing heavy lifting. If you're already experiencing low back pain (or you just want to strengthen your back), lower back stretches such as trunk rotations, pelvic tilt, bridges, and knee-to-chests, can not only mitigate pain but help prevent injury as well.
Skiing Out of Control 
The phenomenon of the "weekend warrior," who gets more easily fatigued versus the well-conditioned athlete, is a common factor in injuries at the end of the day. Furthermore, we see injuries in patients who ski or snowboard beyond their ability, which tends to be a byproduct of spring fever. Above all else, most of our surgeries are the result of one party or another being "out of control." Anecdotally, after speaking to thousands of recently injured patients, the most common descriptions of an accident are one of the following:
I got out of control and crashed.
Someone else got out of control and ran into the back of me or over me.
I hit a patch of ice or unexpected terrain.
I overshot or "knuckled" (undershot) the jump.
My arm/leg hit the rail in the terrain park.
By design, skiing and snowboarding are fairly ballistic – think about what your body is doing through space. If your energy can get dispersed, for example, sliding to a stop, then your body usually isn't forced to "absorb" it. But fixed objects, collisions and sudden forceful decelerations are the common denominators that understandably cause significant injury.
You would never consider jumping out of a moving vehicle at 30 mph into a wooded forest. Flying fast through the woods on skis or a snowboard is analogous. Speeding can be even more dangerous when spring conditions are present. If your skis get caught up in springtime cement, but your body is still moving at 30 mph, injury is almost inevitable.
Know When To Seek Medical Attention
One of the biggest mistakes people make is ignoring pain and avoiding the doctor. While facing a possible 6-8 weeks of rest and recovery can be a mental hurdle, failing to seek proper treatment for a serious injury will always compound your symptoms, may lead to other injuries, and can even cause life-long problems that could be easily avoided.
Luckily, Vail-Summit Orthopaedics & Neurosurgery opened Summit County's first and only Orthopaedic Urgent Care. If you're seriously injured on the mountain (or otherwise) this spring, visit our Urgent Care located in our Frisco Clinic. Walk-ins are welcome, and we are more convenient and cost-effective than the Emergency Room. We treat most major orthopaedic injuries and you'll receive care from a top surgeon or sports medicine specialist. VSON Urgent Care is open every day until 8 p.m. – there's no excuse to ignore an injury!  Keep our Urgent Care number in your back pocket: (970) 477-4454.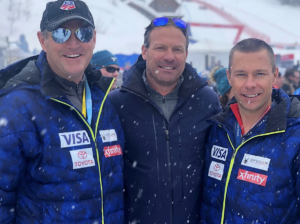 Bottom line: stay healthy and stay active so you can play all spring and summer long. Always remember to stretch, adequately warm up, and stay within your limits so you avoid injury and the operating room.
If something does feel off or you have persisting pain or injury, call us to make an appointment. The VSON orthopaedic specialists are among the top rated in the country, and we serve the country's top athletes – including the prestigious US Ski Team. As your neighbors in Summit and Eagle Counties, we're proud to support BGV employees by keeping you active all season long!
Book your appointment at our Frisco location today: 970-668-3633. Located at 360 Peak One Drive in Frisco.